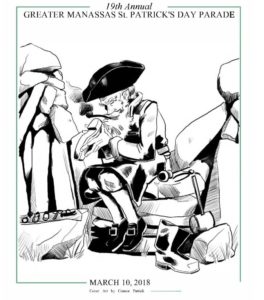 The 19th Annual Greater Manassas Saint Patrick's Day Parade was held on March 10, 2018. The 2018 parade book cover was illustrated by Connor Patrick. Patrick is a graduate of Saint John Paul the Great High School and a parishioner at All Saints Catholic Church in Mansassas, Virginia.
"Over the year's I've seen a lot of leprechauns depicted as Irish  so I wanted to understand where they came from in terms of Irish folklore. I tried to illustrate a leprechaun that fit with that lore, and not the caricatures you often see today," said Patrick.
About the Leprechaun
A leprechaun is a type of fairy from traditional Irish folklore. The earliest known reference to leprechauns comes from the medieval legend Echtra Fergus macLéti, in which the King of Ulster Fergus mac Léti encounters three lúchorpáin, or "Little bodies".
Leprechauns are solitary, and will spend most of their time making or mending shoes. However, they will often indulge in mischief and playing practical jokes on others. Traditionally, when a leprechaun is caught, he will grant his captor three wishes in exchange for freedom.
Leprechauns are traditionally described as being about 3 feet tall, and wear fine red coats with various hats (most often a cocked or tricorne hat). Accounts of their appearance can vary between regions; in some areas they are said to wear elizabethan ruff around their necks and frills at their wrists. In others they wear a coarse woolen coat over their fine red ones, in some they wear seven rows of seven buttons, and in other areas still they carry swords that are used as magic wands. The one descriptor that all accounts will agree on is the red coat.
So how did the leprechaun come to wear green? The modern depictions of leprechauns seen in pop culture are not actually based on traditional folklore, but on derogatory caricatures published in the 19th century (most of which originated from England). Although it's been greatly popularized in modern media, many Irish people consider this version of the leprechaun an insensitive or sometimes outright insulting series of Irish stereotypes.
About the Greater Manassas Saint Patrick's Day Parade
Held annually in March, the Greater Manassas Saint Patrick's Day Parade can be viewed along Center Street in Old Town Manassas, Virginia. The 2019 parade will be held on Saturday, March 9 at 11am. In addition to local schools, nonprofits and businesses, the parade boasts unique Irish flair with several pipe bands including the Alexandria Pipe and Drums, Irish dance groups, and members of the Ancient Order of Hibernians. Inisfail Inc., organizing body of the Greater Manassas Saint Patrick's Day Parade, is a Section 501(c)(3) tax-exempt public charity.